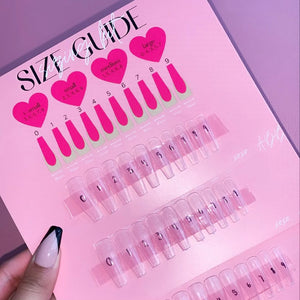 Don't know your size? We got you! Simply purchase our sizing kit which includes all 10 sizes (0-9) for ONLY FREE SHIPPING & TAXES INCLUDED. THATS RIGHT! Our Sizing Kit brought right to your doorsteps for just $0!
*International & domestic shipping available* 
Usually arrives within 1-3 for domestic & 3-7 days for international. 
Since all products are made customized to your size, we recommend that you purchase our sizing kit, to get the nail set that best fits you as there are no absolutely no refunds or exchanges. 
Our sizing kit helps you ensure that you purchase the right sizes for your nails.
EASY TO USE, GREAT FOR REFERENCE.