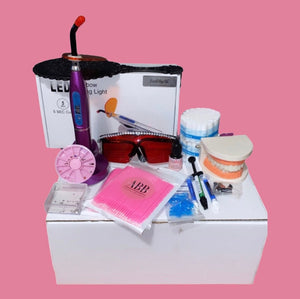 AmiriBeautyAcademy
Tooth Gem Tech Business Starter Kit + Online Course + Certification
Hey Icy Babes💎 Want to be your own boss? Our Tooth Gem Beginners Kit gives you everything you need to start your journey in our tooth jewelry industry at an affordable price.
Tooth Gem Business Starter Kit Includes:
💎 100 micro-brushes
💎 100 Cotton Rolls
💎 Tooth Model
💎 So Icy - Tooth Gem Bond - Full Size Dental Bonding Resin ($80 value)
💎Professional Dental UV Light
💎1 tube Tooth Gem Primer (with syringe tips)
💎50 Crystal Clear Lead-FreeSwarovski Tooth Gems Icy Box
💎 40 Assorted Lead-free Swarovski Tooth gems
💎 10 Crystal Clear Swarovski Heart Tooth Gems
💎 1 Wax Pen
💎 1 Mirror
💎 1 Eye Protection Glasses
💎 Intake Forms (PDF Version)
💎 Consent Forms (PDF Version)
💎 Aftercare Instagram (PDF Version)
💎 Certification of completion (PDF Version)
Make $10,000+ in this kit alone! Good for up to your first 100 clients!